Control room layout
We have a brand new layout that allows for seeing the Rundown, Preview and Output all at the same time.
This is a great way to get a full view of your entire graphics setup.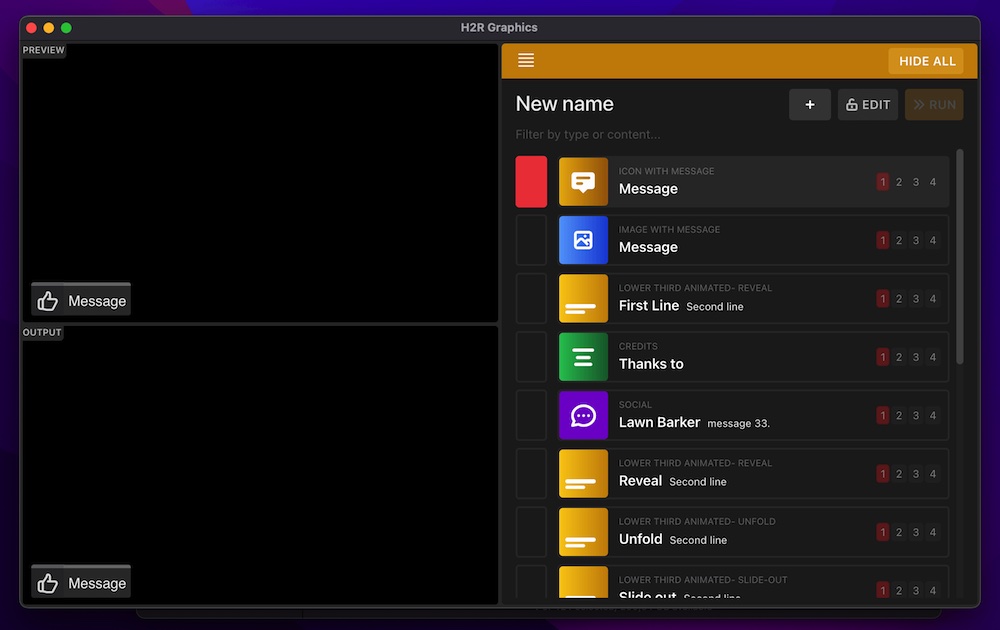 Open the Control Room right from the launcher and start using it!
Per-graphic transitions
No longer do you need all your graphics to have the same transition, even when they are using the same theme.
We have just added the ability to set a custom transition for each of the graphics, this can be done by editing any graphic, and setting a "Theme override" in the "Theme" section.

HTTP listener for social messages
You can now send your own messages into the social section of H2R Graphics. This is done via the latest data source option: HTTP Listener.
We've documented all the steps over on our docs site. Check that out here.
And more…
We've also added:
Highlight around the currently active message on the /social tab.
Custom label for each graphic.
'Toggle' show/hide graphic option for API & Companion.
'Social' only URL.
moderator=true, showList=true, showRealtime=true, showChat=false options for social page.
Nav menu improvments.
Improvements to Companion timer updates.
Remove filter on Image graphic so they no longer appear blown out.
Big Timer circle now smoothly animates.
Fixed a broken link to the websites documentation.
All images types should now appear on the image graphic dropdown.