Why H2R Graphics
Are you looking for a powerful graphics software to create stunning visuals for your video streaming and recording? H2R Graphics is the perfect graphics software for OBS Studio that can help you create captivating visuals without breaking the bank.
H2R Graphics is a comprehensive graphics software designed to help streamers and video creators create beautiful visuals for their videos. It offers a wide range of features that allow you to customise your graphics to fit your needs. With H2R Graphics, you can quickly and easily create high-quality visuals for your videos and stream them with ease.
Customise it your way
One of the biggest advantages of using H2R Graphics for OBS is the ability to customise graphics with ease. Whether you're creating graphics for your stream, recording, or even for a YouTube video, you can easily create any type of graphic you need. With a few clicks of the mouse, you can change the colors, fonts, and even add your own images or logos. You can also adjust the size, position, and orientation of your graphics to perfectly fit your video.
Another great feature of H2R Graphics for OBS is the ability to use it with different streaming services. You can stream directly to Twitch, YouTube, or any other streaming service without any problems - all with lovely graphics on top!
How it works
1 - Launch
Download and launch both OBS and H2R Graphics. So far, so good.
2 - Add a browser source
In a scene of your choice, add a browser source.

3 - Configuring the browser source
Paste the "Output" URL from H2R Graphics into the URL section. Be sure to also set the Width and Height to 1920x1080.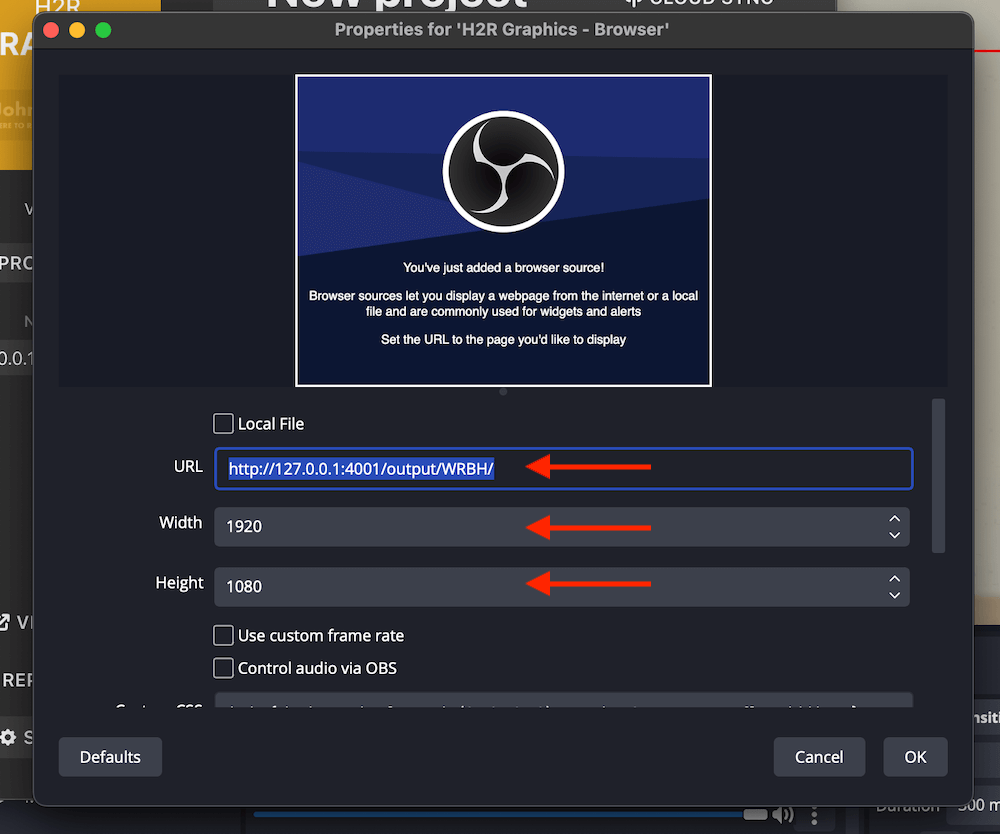 4 - Setting the outputs background colour
By default, H2R Graphics outputs have a green background colour.
Open the Launcher > Output and then set the background colour by typing in "transparent".

5 - Good to go
Your graphics are looking good in OBS Studio. Done!